March 3rd 2001
New Interview added
February 22nd 2001...
I Have A Dream and Swear It Again lyrics up.
I've also pit a new interview up but only half of it so far!
February 20th 2001
I've added some more cool links...check 'em out!
February 19th 2001
Make sure you but Uptown Girl on March 5th!!
February 10th...
You can vote for Westlife to win Best Pop Act at The Brits this year...click here -->
February 9th 2001...
Westlife have started there UK tour. Below is a picture of them backstage at their concert tonight at Newcastle!!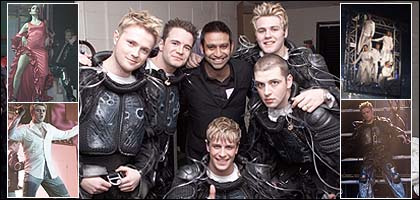 February 5th 2001...
More Lyrics added.


February 4th 2001...
New Pictures added from I Lay My Love On You video and a few more. Also a few more links added.


January 27th 2001...

Nicky has a new hairstyle! Take a look at it below! He had it done for the new video for Uptown Girl.