MEN Interview

Is there ever a point where you feel Westlife is moving too fast?
Nicky: I think there is some days. Y'know with the kind of success we've had over the past year it's been phenomenal. I don't think anyone ever expected it in any way to be that fast. We don't want to stop it. We don't want to stop the success. There's was question of us not releasing for Christmas because we were thinking, 'Has people had to much of us at the moment'. But I think once the ball's rolling you've got to keep it rolling. And the Westlife train's still going. We're just having fun.

Do you ever worry that things could fizzle out as fast as the came?
Nicky: Definitely. Especially in the pop business there's now doubt about that it can. We've seen it with so many bands in the past. Who would have thought that nobody would be thinking about Take That today. They were so big, such a huge phenomena and when they broke up it was a disaster. Then everybody forgot and moved on with life. It can just end tomorrow if people don't want you any more. They won't buy your records and that's the end of you.

How do you think pop is doing in general at the moment?
Nicky: I think it's flying. I think people are loving it. With the likes of Britney Spears and I suppose ourselves. There's plenty of young up and coming acts that are on the show tonight. There's plenty of pop around and there will always be pop around.

Can you summarise how the past year has made you feel?
Nicky: Absolutely knackered tired. But the best days of my life so far and hopefully I''ll always kinda remember. When I'm 60 years of age if I have grandchildren I can always say, 'Watch the videos, look at the pictures or it's in the Guinness Book of Records and we're proud of that. We're just loving it so much at the moment.

After your 'Coast To Coast' tour, do you think you could ever do anything like the Backstreet Boys did and do four continents in short space of time?
Nicky: I think we could do. The Backstreet Boys probably took a leaf a little bit out of our book and they went one better. It's not copying us but having their own little idea. It was great and it worked for them as well. I like the Backstreet Boys. They're great lads and very talented singers. I'm sure we could do it but it takes an awful lot of planning. 'Coast To Coast' Day almost killed us! We were knackered after it. I went to sleep for two days but we enjoyed it.

What surprised you most about 2000?
Nicky: I think that we've continued the success, the number ones. We thought after last year, getting Christmas number one, getting Record Of The Year, we thought it'll kinda slow down a little bit for us. But it didn't! One thing that surprised me is how difficult the US market is to break. We went there in the summer for three months and it's such a huge market. We were getting on planes four times a day, we traveled to different towns and cities trying to make an impact. We did. We had a number two single with 'Swear it Again'. We haven't released the second single yet because we haven't had the time to go back to promote it but hopefully in the summer next year we will.

America's the next step then?
Nicky: Next summer. We've got this album, we've got Christmas and the tour starting in February. We go straight into rehearsals in January. It'll be April before we go to the States.

Will you be hooking up with Mariah when you go over?
Nicky: I dunno to be honest with you. We haven't spoken to her since we recorded the song. Well we spoke to her after we got to number one to congratulate each other and stuff. I don't think so, unless both of us are in town. We won't be going out of our way. I don't mean that in a bad way. She was lovely and it was a great experience but it wasn't like we're best friends or anything. She's a lot older than us. I don't think we'll be socialising with her. But if she invites us round to her house for dinner I'm not going to say no.

What do you like about America?
Nicky: I liked LA, I liked New York. I love the hustle and bustle of New York city. Los Angles, the shopping there. America really killed us. LA and Boston are fine but you go down to places like Omaha and Nebraska and it's literally just like country town. You're spending two or three days there doing radio promotions and it gets to you after a while especially with us being kinda successful back home and in Europe and stuff. Nobody knew us in America. At the start it was great then after a while it was like, nobody's still not looking at us! You don't think it would affect you but it does. You kinda think, 'We want a little bit more respect here'. It's not that we were kinda getting stroppy about it but it is a hard market. *N Sync are so big there everybody compares you to *N Sync. When *N Sync come over here they say, 'Are you gonna be the next Westlife'. It's just different. It's difficult to break the whole world at once.

Are you worried about people beating you to Christmas No 1?
Nicky: Not at all. Christmas No 1 is always a dodgy number one. It's always gonna be something that'll appeal to people at the time. If we don't get number one, yeah I'll be disappointed but it's at Christmas time which is where there's the most competition. Blobby was number one at Christmas time a couple of years ago. It's always kinda a song like that that will pip you at the post but we're gonna do our best. If we don't get it as I said it's not the end of the world. It's a good laugh. I think is brilliant 'cos we've got a little kinda sixties routine to it round the mic stands. We really enjoy performing it.

Everyone's putting bets on you guys being Christmas No 1. Ever been tempted to have a flutter on yourselves?
Nicky: I have actually! Not on Christmas number one. There was a bet, 100/1 for us to get 10 number ones in a row. This was after we had the sixth. I didn't actually put money on it but I know people who did. At 100/1 I think they put about 10 or 20 quid on it so fair play to them. If we do it, we do it but I dunno. We've got this single then we've got the Comic Relief single in the middle of March then we've got another single hopefully in the summer.

Tell us about your favourite Christmas childhood memory?
Nicky: I love Christmas. I think for me, growing up, my mam's got five sisters who're all married and have kids who are obviously my cousins. We always go to meet at my nana's house on Christmas day. Everybody always buys for everybody and gives out presents. You've got 30 or 40 people in the house and it's not even a big house - it's just like a normal one. It's a great day. Everyone's eating and drinking, giving out presents. It's very homely with everyone together and I love that. I love just Christmas in general being able to go home and spend it with your friends. Everywhere has a good atmosphere, pubs. Everyone's open and it's great.

What are your plans for New Year?
Nicky: I dunno yet. I was gonna head off to New York but I haven't decided yet. if it's not New York it'll probably just be Dublin.

What are your main aspirations for 2001?
Nicky: Just to keep going with the way Westlife is. I think it will slow down. This year has to slow down! We can't keep repeating it. I just hope that it won't slow and then die away. I hope we can sustane the pace. Slow down for a while then have a lot more success again. We've got the world tour which starts in February in Newcastle. We're doing five Newcastles, six Glasgows, three or four Sheffields, 10 Wembleys, Manchester. It's going to an amazing year for us. We're just so looking forward to our tour. It's something that we've always looked forward to.

Byrne Baby Byrne- Smash HIts- February 2001
"I can't wait to have a kid", sighed Nicky as we sat chatting at last years Poll Winners' Party. Then Bryan went and got pregnant (sort of) and poor Nicky was feeling left out- so Smash HIts provided him with his very own (imaginary) baby

SO WHAT ARE YOU GONNA CALL IT?
I think hes a little boy and Im gonna call him Dylan.

WOULD YOU CHANGE HIS NAPPY?
(pulling a face) I suppose so. Ill take him round to my mams first so she can show me how to do it properly. (laughing) But Id have to get used to doing it myself, wouldnt I?!

WILL YOU GIVE HIM HIS BOTTLE?
Er, yeah, if I had to. Can I get a friend to breast feed so I can watch? (laughing) No thats horrible, but bottle-feeding means getting up four times a night, doesnt it? Well, maybe whoevers beside in bed can do it!

HOW WILL YOU DRESS HIM?
(Getting excited) Really, really cool. In nice little baggy jeans, little boots or trainers, a little hooded sweatshirt and an earring. (laughs for ages) No, he wouldnt have an earring, he could decide on that when hes older!

WHAT SONGS WILL YOU SING HIM TO GET HIM TO SLEEP?
Er, Keep On Movin by Five (laughing really hard)! Nah, Im only messin! Id probably sing I Love The Way You Love Me by Boyzone. Its a nice soothing sleep song.

WHAT STORIES WILL YOU TELL HIM?
My dad always used to tell me this story about a dog in a house which hed totally made up. Ill get my dad to remind me what the story was, then Ill add in my own little bits. (making ah noises) Thatd be nice, wouldnt it?!

WILL YOU LET HIM EAT SWEETS?
Yeah, Id never stop my kids having sweets, bit in moderation. (thinks a bit) I wouldnt give them to him whenever he wanted- I wouldnt want his teeth to rot before he was old enough to talk!

WILL YOU WATCH CARTTONS WITH HIM ON A SATURDAY MORNING?
As long as I dont have a hangover and its not too early! No of course I would, thats a dad thing to do. I used to watch Care Bears, is that still on? Ive seen Pokemon once and I quite enjoyed that, and I really like Rugrats, so we can watch those together.

WILL YOU BABY-SIT FOR RONAN?
As long as Ronan baby-sits for Dylan once in a while. We can take it in turns every weekend.

WHERE WILL YOU BRING HIM UP?
In the place I grew up in Baldoyle, about 20 minutes north of Dublin city centre. Its close enough to the city, theres loads of local shops, its by the sea and its got loads of football pitches! It would be perfect.

WILL YOU GIVE UP TOURING, OR TAKE DYLAN WITH YOU?
Thats a difficult one; I dont think taking a young baby on tour is very fair, especially if youre travelling everyday. (thinks) this is so difficult! I think id get someone to help me look after him until he was a bit bigger and ok to travel.

WILL YOU HIRE A NANNY?
Id be very careful. (Looks worried) I dont like the thought of a stranger looking after my kid. Itd have to be someone I knew or knew through a friend. Id deffinatly want to know their background first.

WHOD MAKE A GOOD CELEBRITY NANNY?
Let me see, I think posh spice would be ideal. Dylan could hang out with Brooklyn, (really laughing) dressed up is his Gucci gear, and I could go for a few drinks with David!

In The Sack With Nicky Westlife

Smash Hits, January 2000

From goal kicks to nose picks, no secret is safe when Nicky jumps in the sack. No wonder he moans, "These questions are too hard!"

IF YOU COULD BE INVISIBLE FOR ONE DAY WHERE WOULD YOU GO AND WHY?
(Jenny Crown, Bromsgrove)
There are a few places I'd like to visit, so I'd have a very busy day! I'd start off in our manager Louis Walsh's office to see what he has planned for us, so I know exactly where we'll be going! And I'd take a trip to the girls' changing rooms at some point, (laughing) it has to be done - maybe the Miss World changing rooms or something! I'd also like to take a trip into other bands' dressing rooms. It'd be interesting to hear exactly what they have to say about us!

WHY DID YOU THANK THE BACKSTREET BOYS ON YOUR ALBUM SLEEVE?
(Georgina Adams, Surrey)
Before I was in the band, the Backstreet Boys were a huge influence on the boys from Sligo and Bryan. Not taking anything away from Boyzone, because they're a huge influence for us, being Irish. Before the boys met Louis Walsh he put them on supporting Backstreet in Dublin and it was the first time the Sligo boys had performed in front of an audience. We got together and decided it'd be nice to thank them for that inspiration they gave us. We've met them too and they're really cool guys.

IF YOU WERE AN ICE LOLLY WHAT FLAVOUR WOULD YOU BE AND WHAT JOKE BE ON YOUR STICK?
(Nicola Richer, Surrey)
(laughing) A lolly? Hmm, I'd probably be a banana flavour ice cream with chocolate over the top! Do lollies have jokes on them? I've never seen one before, either that or I've just never noticed. Can it be any joke? Okay, what do you call a bear with no teeth? A gummi bear! That's my favourite joke.

ARE YOU GLAD LEEDS TOLD YOU YOU WERE TOO SHORT TO BE THEIR GOALIE SINCE YOU'VE HIT THE BIG TIME WITH WESTLIFE?
(Hayley Thorpe, Eltham)
Totally! I've got great friends at Leeds and I'm thankful for my time there. I love football and miss it, but I fell on my feet. When I came back from Leeds I was devastated and really depressed. Some nights I'd just sit and cry, but I knew what I wanted to do and knew if I worked hard enough I'd achieve it. I've been really lucky.

IF YOU WERE REINCARNATED WHAT WOULD YOU COME BACK AS?
(D Hunter, Northants)
(sighing) These questions are too hard! I'd like to be a horse or a dog. Horses are such beautiful animals, and I'd love to be able to run fast! Dogs are really cute and man's best friend! If I had to be a person rather than an animal, I'd be really, really famous like Madonna, Elvis or Michael Jackson. It'd be really interesting to see what it's like to be that famous.

WOULD YOU GIVE UP ALL YOUR SUCCESS IN WESTLIFE IN EXCHANGE FOR WORLD PEACE?
(Marie O'Donnell, Glasgow)
(shaking his head and laughing) Oh, no! this is getting to political. Umm (laughing again), oh God, what can I say? (Taking a deep breath) No, I don't think I would. I'd love to have world peace, it'd be brilliant, but I think we can achieve it without people sacrificing careers. People have to have their own lives and I love what I do. I don't think giving up my career could ever influence world leaders, so no, I wouldn't.

IF YOU WERE A SAUCE WHAT WOULD YOU BE AND WHOSE SANDWICH WOULD YOU FILL?
(Louise Chaves, Tottenham)
Hahaha! A sauce? I'd be mushroom and cream sauce. Whenever I eat steak and chips I have to have mushroom and cream sauce, on chicken and mushroom pies too. Anyone who wanted to eat me could. I'd just pop into their sandwich and let them have a good chew on me.

WHICH MEMBER OF WESTLIFE HAS THE BEST LOOKING SISTER?
(Marfua Begum, London)
(thinking) That's debatable. Mark doesn't have a sister and Kian's got a good few. But I'd say it'd between Shane's sister Mairead and Bryan's sister Susan. Mairead's a lot older than Susan and she's sexy. Susan's a lot younger, she's 16 and is gonna be really nice when she's older.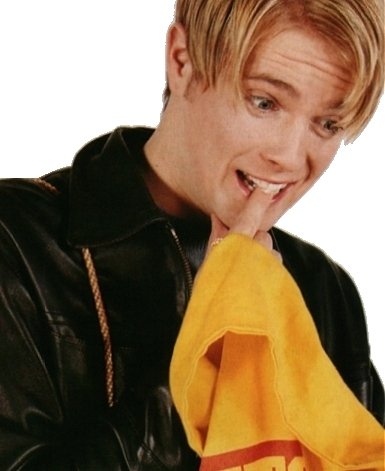 WHY, AT THE WESTLIFE SIGNING, DID IT TAKE YOU THREE HOURS TO WRITE YOUR NAME 100 TIMES WHEN IT ONLY TAKES ME THREE MINUTES, 11 SECONDS?
(Sarah Day, Cheshire)
(giggling) All I can say is you must've had a lot more practice than us! Don't forget there are five of us so you'd have to write your names 500 times, then see how long it takes. Plus we have to chat, kiss people, pose for photographs and stuff like that. If you add all that and smile and be happy, as well as run to the toilet a couple of times, it takes longer. If you can do all that in three minutes then congratulations!

IF YOU WERE A PAIR OF KNICKERS, WHO WOULD YOU MOST LIKE TO BE THROWN ON STAGE AT?
(Jemma Downes, Dublin)
(Looking relieved) Phew, I thought you were gonna ask me who I'd like them to be on! (laughing) Probably Westlife, to see it from the knicker angle! Can you imagine, lying on the stage looking up at Westlife, it'd be quite interesting actually (giggles at the thought for ages).

DOES RONAN EVER GET ON YOUR NERVES?
(Jessica Musson, Notts)
Not really, to be honest. Ronan's been very, very good to us in every way possible. He's a very busy guy with a lot of things on his shoulders. We try not to bother him to much, but when we do ring him up and ask him things, he's always there. His voice is amazing, and no matter what it is, whether it's about what shoes we buy, he gives us an opinion. For someone that busy, its amazing. Y'know he's married, he's got a kid, Boyzone, his solo stuff, presenting - he does everything! And to manage us too and be there for us when we need him, is amazing.

YOUR BIRTHDAY IS A DAY BEFORE MINE SO YOU'RE A LIBRA LIKE ME. DO YOU BELIEVE IN HOROSCOPES AND SUPERSTITION?
(Debbie Jeffreys, Bracknell)
I'm very superstitious actually, but I never read my horoscopes anymore, even if someone reads it to me I won't listen. I used to, but not anymore. I went to a fortune teller when I was at Leeds, she didn't tell me anything bad. She said I'd be successful in my career and one day I'd play at Wembley. I assumed it'd be at football, but it'll probably be with the band. Since then I decided I never wanna hear the future again.

WHAT ARE YOURS AND THE OTHER LADS' WORST HABITS?
(Elizabeth Horobin, Conwy)
Picking my nose. I try not to do it in public, but if I rub my nose and I feel something there, I have to get it. I never eat it though! (pulls a disgusted face). Shane doesn't listen to you, he's in a world of his own. Bryan is like a Duracell battery, always on the go. It can be 4am and we're all knackered but Bry'll wanna play football! Kian and Mark are pretty cool, although Kian can get agitated and lose his cool and I'll be like, "It's not that bad, chill." Mark can fall asleep just like that, which can be annoying, you'll turn to talk to him and he'll be, like. (Mark sleeping with his mouth open)!

FANS HOLD UP BANNERS FOR YOU. IF YOU COULD HOLD UP A BANNER FOR YOUR FANS, WHAT WOULD IT SAY?
(Vicki Mann, Somerset)
It'd say, "We love you so much, thank you for all for everything you've done for us."

Nicky's own pick of the post:
YOU'RE VERY PROTECTIVE OF GEORGINA, BUT HAS YOUR RELATIONSHIP CHANGED SINCE YOU JOINED WESTLIFE AND WHAT DOES SHE THINK OF YOUR FANS?
(Joanna, Nottingham)
Georgina thinks the fans are great, to be honest with you. At the start I didn't know how she's accept the female attention, but she's been great. If we're at home and there's a call at the house, she'll go out and speak to the fans. When she's at me mam's she'll quite happily talk all day to them. Even in town now, a lot of people recognise her and she's as nice as she can be to them. I think our relationship has changed a little bit. The fact that we don't see each other a lot has put a strain on it, and I'll freely admit that. But I think we're still as much in love as we were and hopefully it'll continue to be like that. Can I just say thank you to everyone who has been lovely to Georgina and myself, it really means a lot to us.